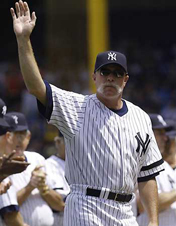 Goose Gossage was first eligible for induction in the 2000 balloting, and received less than 34% of the votes of the BBWAA (
75%
are required for induction).
His support has steadily increased, with his showing in the 2007 balloting of 71.2% his best yet.
He will be inducted July 27, 2008 in Cooperstown, joined by five men elected last month by the revamped Veterans Committee: former commissioner Bowie Kuhn, former Dodgers owner Walter O'Malley, managers Dick Williams and Billy Southworth and ex-Pirates owner Barney Dreyfuss.
View a career retrospective.
Click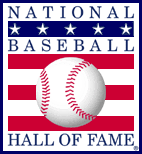 for HOF Page.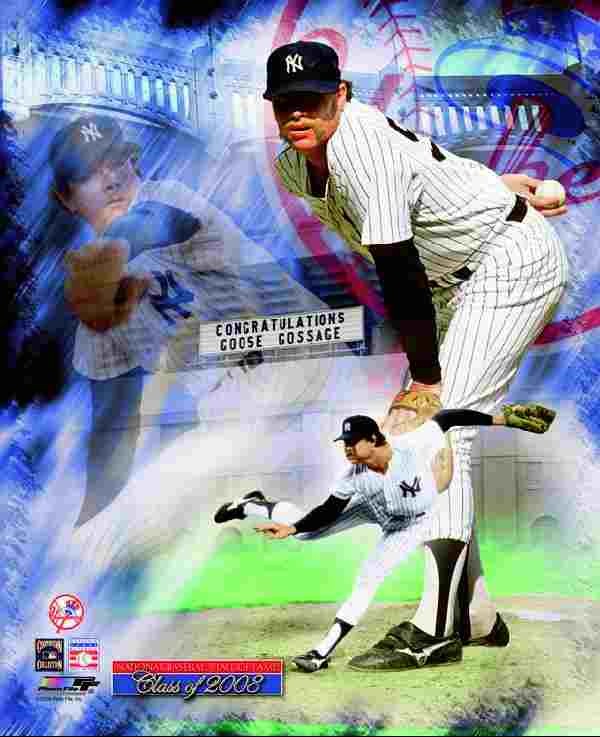 Hall of Fame Voting
| | | | | | | |
| --- | --- | --- | --- | --- | --- | --- |
| Year | Votes | Percent | | Year | Votes | Percent |
| 2000 | 166 | 33.3% | | 2005 | 285 | 55.2% |
| 2001 | 228 | 44.3% | | 2006 | 337 | 64.6% |
| 2002 | 203 | 43% | | 2007 | 388 | 71.2% |
| 2003 | 209 | 42.1% | | 2008 | 466 | 85.8% |
| 2004 | 206 | 40.7% | | | | |
The Fan with Joe Benigno and Evan Roberts, WFAN, The Midday Show, July 30, 2007

Interview with Chris Yandek, April 30, 2007



MIDDAY

-

MLB.com, April 30, 2007